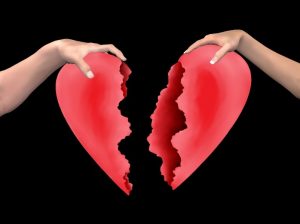 The wedding ring is off the finger, the divorce papers are served and now you are Finding Love After Divorce wilderness 20 years or so after your last first date. Aaaghh!!! Feeling lost? Overwhelmed? Out of touch? No idea where to start or what to do?
Love after divorce is not all lost. Read this dating advice and get yourself up to speed now!
1: First things first. Rebuild your SELF ESTEEM. No one comes out of a divorce feeling like a success, whether it was your idea or not. How good you feel comes down to how good you think you look.
If you still have the same hair style and make up that you sported in your wedding photos it is time for an update. No, you don't have to do anything radical or extremely expensive. If you are a 'classic' type of gal just get the 'today' version of your style. Still you, but better! If you are stuck in the 80's or 90's then it is time to scout through some magazines for some new makeup tips, clip some photos of 'celeb' hair that you admire and head off to the hair salon. Even budget hair shops will cut your hair for you to a photo and give you some free advice. Don't be conned into a high maintenance style if you are a wash and wear girl. A change of hair color can be as good as a face lift for taking years off your age. Get the hair stylist to do it the first time and then after that you can use seriously good at home products yourself if you are on a budget.
If you need to lose a few pounds do so. Excess weight can age you and also make you more self conscious about dating men and getting personal. If you can afford to do so, join a gym or health club as then you can extend your social circle as well as tone up. For the money conscious there are many inexpensive or free options which I am going to list right now. Take a brisk 30 minute walk five times a week to tone up thighs, legs and butt. Join the library and hire for free a home workout video (or follow along with a TV show). Kick the soccer ball in the yard or throw the Frisbee with the kids. Walk the children to the playground. Now you are no longer cooking for him you can ditch all the high calorie, high fat, high carb meals he might have enjoyed and cook for yourself and your own health and taste buds. Start cooking more healthy meals and watch the pounds fall off! Not inspired to cook for one? The frozen section of your grocery store has a wide range of diet meals prepared for one that you just have to nuke. No excuses.
Take a good hard look at your wardrobe. Do your clothes reflect who you want to be now or are they from a bygone era? If you are no longer a soccer or PTA mom you don't need the soccer/PTA mom gear do you? Ill fitting clothes will make you feel uncomfortable and unsexy so ditch those first. Anything you haven't worn for more than 2 years should also go unless you are consigning it to the classic corner. Keep the good basic staples to build your new image from. While waiting in the supermarket aisle, glance through the fashion magazines for an idea of the "latest must-have". All chain stores stock the latest trendy accessories in less expensive ranges. Choose a style of bag or shoe that is in now but also ties in with your older gear and hey presto- new look. You can also pick up a new shirt, pullover, coat, scarf, dress or trousers to update the old basics that you chose to keep. Keep within your budget. Two less expensive items will give you more new looks than one costly piece which everyone else will remember you wore last time. Old daggy clothes will now be used for home exercise, gardening, house cleaning and the like. No public viewing unless exercising!
Start looking after your hands and nails. Nothing is more aging than a pair of weather beaten hands. Neatly filed finger nails with a clear coat of gloss look really healthy and well maintained. For your toe nails chose a bright cheerful color that ties in with your new wardrobe. Polished toe nails really finish off a look. You can easily do this at home and save the nail salon money for something else. The beauty of clear gloss is that no-one will notice if it is a little bit chipped. Apply hand cream each and every night before turning out the light and don't forget to put it on your feet as well. Someone will be looking at your feet soon.
Applying face moisturiser and eye cream every morning is another easy way to take 5 years off the age of your face. If you are not a believer try it and see. Add a little lip colour and you are all ready to face the world of dating after divorce.
2: WHERE TO MEET MR RIGHT. Dating after divorce is a whole new world. Chances are, when you were dating pre-marriage you just went out and met and dated men. Now there are many more options available to you.
Well meaning friends and relations are probably bombarding you with divorced men, single dads, widowed men, separated men and confirmed bachelors, all just waiting for you. If you are lucky enough to find someone within these circles then this is fantastic because they will come all reference checked and hopefully with no nasty hidden surprises.
After years of "quiet nights in" on weekends you may or may not enjoy the nightclub scene again. For those of you who haven't been frequenting this scene in a while please be aware of the world wide phenomena of "drink spiking". Be wary of accepting drinks from strangers as more and more women get caught out waking up in the morning with no memory of last night.
School functions, the school yard and the sports yard can be great potential places to meet divorced men. Many relationships after divorce have been started while accompanying the children to various functions. These venues are great places to just practice your social skills and to get used to presenting yourself solo to the rest of the world. Don't try too hard. Keep a smile handy. Try not to be bitter and twisted about the ex. Most importantly, do not fall into the role of 'tarty' single mom on the soccer field, just keep it light hearted and natural. Read this article on body language so you know what signals he is giving off.
Local sports facilities like tennis, golf, sailing etc can be fun and healthy ways to increase your social circle and get to meet men. Take along a friend to keep you more motivated. Local dramatic groups, if that's your thing, are also worthwhile. You never know when the local version of Brad Pitt or George Clooney is going to come along and join the Christmas pageant.
Check out your local equivalent of parents-without-partners as another viable way of finding love after divorce. At the very worst you will meet other parents in the same situation as yourself. Very helpful for support, advise and who knows, maybe even babysitting.
Newer dating devises now include speed dating. This involves going to a venue and rotating around a group of males sharing your information in a set period of time. Anyone interested in you and vise versa gets to exchange info at the end of the evening. This is ideal for dating girls who are in a rush. Make sure you have polished up on your social skills before trying this out. Perfect for the extroverted divorced woman who presents well.
Internet or online dating services. From the comfort of your own lounge room in your pyjamas comes the dating service that has taken the world by storm. Pushed for time? Pushed for a babysitter? Don't like night clubs? Run out of friends of friends? Looking for specific demographics? This could be for you. There are many services out there to choose from for online dating services reviews. If you do find a potential date through one of these services be sure to read Coco Swan's article on "Your first date from the internet".
3: SEXUAL HEALTH. Sexual health clinics the world over are seeing huge increases in STD'S in post divorced women. Gone are the days of just worrying about getting pregnant. Now there are the very real added fears of HIV/AIDS, genital herpes. genital warts, chlamydia and even syphilis and gonorrhea are on the increase. Being on the Pill, having had your tubes tied or being menopausal will not save you from any of these little nasties. The only safe way to avoid these is to use a condom each and every time.
Life after divorce is what you make of it! Give yourself time to regroup.
Here's a good source I found for free dating tips and downloading a dedicated dating guide for women.
Get out there and give it a shot!
Coco Swan.