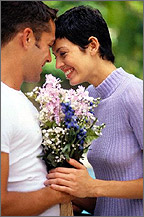 Have you dated every nice Jewish girl your mother can get her hands on? Have you dated every available male Jewish executive that your parents have ever encountered? Do you feel that you have dated every Jewish single in your city or town to no avail? Are your well meaning friends and family despairing over your love life for you? Sounding familiar? Perhaps, you should try a Jewish dating service.
There are many advantages of Jewish dating services. Here are a few of the more worthy benefits:
your choice

. Do you want to date or marry your parent's idea of a perfect spouse, or your idea? Jewish dating services allow you to create your very own wish list for your potential partner. You can be as creative or selective as you want when thinking about your ideal mate. Better still, you won't be justifying your selections to anyone else.
greater variety

. Dating websites will always be able to offer you more singles then you will be able to meet in day to day life yourself. No matter how big your community, city, or social life, there are always going to be other Jewish singles that you will never come across. That reserved single who never goes out or crosses your path, may well be your perfect match.
no more blind dates

. We have all heard others say "but he or she has a really great personality" about yet another introduction. Dating sites allow you to check everyone's photos out before you meet them. So some photos may be a little dated or airbrushed, but you will get an overall idea of how your potential date will look.

convenient

. We all know what a pain it is to get all scrubbed to go out and meet another dud. Why not stay at home in your comfy clothes and check out the singles when it suits you? When you have found a match, then you can make the effort to look your best when you know it is going to be worthwhile.
no more interference from family and friends

. This has to be one of the biggest advantages of any Jewish dating site. You will not be required to explain why you are not marrying the next doctor, dentist, etc, that your loved ones have found. No more post mortems on each and every disastrous date.
introduce yourself

. Are you tired of your auntie introducing you to all the singles with the embarrassing story of you as a three year old with the potty, or naked in the wading pool? Every person has a tale from their childhood that will turn them pink. Why not start introducing yourself with some facts that are more pertinent to yourself and life today? This would otherwise be known as your profile on a dating site. Your ad about yourself, without the shameful kiddy stories.
like minded individuals

. Jewish dating sites allow you the chance to meet other singles who have similar beliefs and philosophies as yourself. Jewish online dating gives you the opportunity to not only meet Jewish singles but also receive dating advice and tips.
Jewish dating sites can be an excellent option for Jewish singles looking for love and romance. Offering convenience and plenty of profiles to select from, this could be a better way to find your partner than relying on your mother, friends, or the matchmaker. Try this reviewed Jewish dating site.